I hope 2012 is treating y'all well so far! T and I are experiencing some post holiday blues, but that's to be expected.
We had a wonderful, low key New Years in the mountains. After much debate about which party to attend, we scrapped all of our potential plans and opted to hole up in the cabin for a few days. It was so nice to spend some intentional, quality time with my husband and puppy, and we came back to Raleigh feeling refreshed and ready to take on the new year. OK, we really wanted to get snowed in the cabin for an indefinite period of time, but unfortunately, that wasn't an option.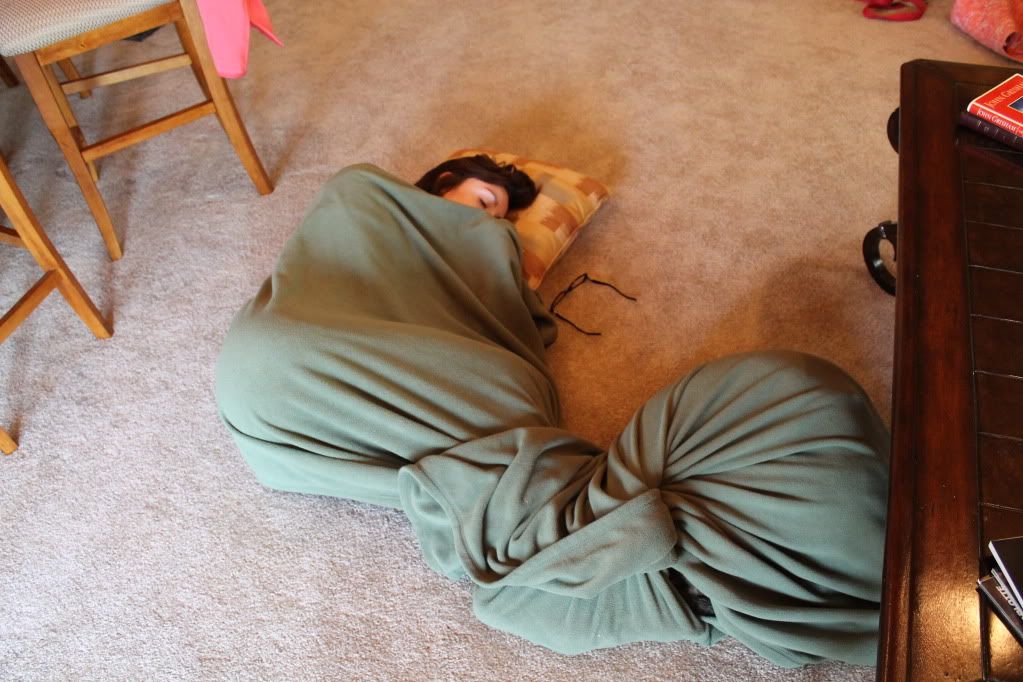 yes, that is Gnarls curled up in the same blanket asleep on the floor with me...crazy dog
We had some great conversations throughout the weekend, reflecting on 2011 and making resolutions for 2012. Some of the things we want to leave in 2011 are our procrastination tendencies, risk aversion and poor eating habits. A few things we would like to work towards in 2012 are strengthening our relationship with the Lord (more specifically, with more prayer), being more intentional with the food we put into our bodies and chasing our dreams even if they involve risk and change.
Ultimately, we want to step outside of our comfort zone this year and discover our full potential. I'm so thankful to have married the love of my life young and get to learn about myself and grow with him. I can't imagine a more amazing person to journey through life with. It makes chasing dreams and making resolutions all the more sweeter.
Speaking of my sweetie, he's under the weather, so it's time for me to sign off and go take care of my guy. I'll be back soon!